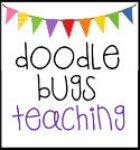 I'm linking again with Doodle Bugs Teaching for her Five for Friday linky. I must say I am so jealous of all those people who are on summer vacation. I now only have 6 and a half weeks, not that I'm counting down...
1. Our class has been growing sunflowers as part of a competition for Espresso, which is a great online educational site. It has lessons, activities, news for every subject. My class watches their news every Thursday and then we take a quiz on what we've just watched after. I thought it would be great to enter their competition because we are about to start a unit on plants.
Here's a photo of our sunflowers so far (about 7-8 weeks)
Growing quickly, although rather crookedly
2. Okay, I'll be honest, my list is probably really strectching for 5, because my mind has been a bit -------- this week. I I did a double-take today though when I was on my way to a personal training session. I meet my friend at his school, which is in the countryside a bit.
Okay, seriously, this is an intersection, like as in a triangular patch of grass, with a small horse?! I'm pretty sure the horse's job was to eay the grass, he looks like he's doing a good job.
3. Another random ... I love this time of year in England. We are finally getting warm temperatures, woo hoo the high 60's (14-19 celcius). The days are getting really long and I love it. Every year this takes me by surprise. Coming from Southern California, the sun rising and setting doesn't change that much between summer and winter. It's crazy to think how much higher latitude wise England is because the sun stays our for-eva in the summer!!
So I know this isn't the most glamourous picture, but I just wanted to quickly give an example of what I meant. I took this picture outside my house, at 9:30pm!! The sun rises at 5 too!
4. No more pics, but I thought I'd at least attempt to write 2 more, since it is 5 for Friday. Today we had our school talent show, which was a take on Britain's Got Talent. I was unfortunately lucky to be made a judge, along with my headteacher and two studnets. It was such a great afternoon. 3 acts were chosen from each year group's earlier auditions. In total we had 12 amazing acts. I'll be honest, I was a little surprised, since I was present for the Year 3 auditions. I must say, our three acts worked really hard this week and performed amazingly.
5. Reports are due Monday. I have been 'working' on them for 2 weeks now. With each student's report being 10 pages long, it gets tedious. Needless to say my weekend will be full.
Thanks for linking up.
Cheers!
Becky